We made our decision based on love for our neighbors".
Craig Hasselbach, Lead Pastor
LifePointe Church, Ft. Collins, CO
True Community Grows Through Cell Tower Fight
(March 22, 2016) It all came together at a neighborhood church on what would become a dramatically stormy night in the Northern Colorado town of Fort Collins. Unlikely bed-fellows found themselves packed shoulder to shoulder into a 15 x 40 room of more than 100. An iconic telecommunications company; dozens of concerned citizens, including their kids; and the church elders and parishioners – all brought together by a remarkable supermom, come community organizer. They were here to discuss a most controversial topic, which, for the first time in almost two decades is finally making its way back into the national conversation.

Over the preceding weeks, the University Acres neighborhood had come together in a big way to speak out on the proposed installation of a six-panel cell tower to be ensconced in the spire of the LifePointe Church on Prospect Road. Like more than 100,000 times since 2004, a major cellular carrier once again was pushing for greater cell coverage for their network. While the approval process for new cell towers has come to be a slam dunk in the US, this time things would be different.

At issue were the potential health impacts from the cell tower's close proximity to a residential community and Lesher Middle School, which lay a scant 150 yards west of the church. Meanwhile residents had uncovered more than 6000 studies showing harm from electromagnetic radiation (EMR). All this coupled with the emergence of new science emboldened the community to speak out.

In the weeks leading up to the community meeting, Heather Lahdenpera had worked tirelessly to first alert the community of the impending decision, and then catalyze broad engagement across more than one third of the residents nearby. What makes this so spectacular is that few communities have acted with so much passion and resolve since the Telecommunications Act of 1996 took away the rights of citizens to challenge the sighting of a cell tower based on health concerns.

But there was something new here. The church elders themselves willingly opened the door for community input. Unlike so many churches across the US, which have never informed their congregation of the microwave radiation raining down from above only yards away in their church tower, LifePointe invited the community to openly express its view. The compassion of the church elders was stunning. It felt like being suddenly catapulted back to a previous era: a time where character and caring trumped economic imperatives and big corporate interests. The elders had broken an essential rule in the Verizon playbook; "never engage with the nearby community," when navigating the approval process of sighting a cell tower.

The meeting featured two presenters. The first, a hired gun, who flew in from the state of Washington, was positioned as an expert in non-ionizing radiation. The other was a researcher, who presented an emerging scientific theory, which connects the current pandemic of chronic disease in America with a single molecule in the body. The presenter calls the dangerous ion, peroxynitrite, P-Factor. P-Factor is apparently triggered in the body from excessive sugar and various environmental toxins — most notably microwave radiation from wireless signals.

Following the presentations, the community was vocal. At least a dozen individuals spoke passionately about the consequences of having a cell tower close by. One resident claimed, "My nine-year old would go to that school, but she won't if there is a cell tower there." One thirteen-year-old student at Lesher expressed concern about the long-term health effects and then decried, "I don't want to be harmed and have my life ruined by a cell tower." Ms. Lahdenpera noted that cell towers under 200 feet require no registration with the FCC and are not actually monitored in the US. She then implored the church elders to observe the "precautionary principle," a widely adopted regulatory approach based on exercising precaution that is popular in Europe. Finally, one long-time resident, after having expressed her appreciation to the elders for holding the community meeting, went on to say, "I do have concerns… life is precious for all the issues raised here. I would appreciate it if the church would see the light!"

Perhaps the most poignant moment of the evening came when a Lesher middle-schooler spoke out. He pointed out that the 1996 Telecommunications Act prevents local town councils from hearing any discussion of health effects in challenging the sighting of a cell tower in the US. As he found his footing, a fresh passion emblazoned the twelve year-old, who railed at the idea that a citizen's right to free speech could be restricted in this way. Youth has a way of telling it like it is. The student went on to quote the first amendment of the US Constitution accurately and in its entirety to make his point.

By 9 PM the meeting had come to a close. An unlikely combination of tears, anger, respect and raw candor poured out in waves from the community. The pastor of LifePointe then brought the meeting to a close with a rousing commitment to make a decision based on "love," rather than "fear." While the fate of the tower remained uncertain, there was a palpable electricity in the air as the many different stakeholders filed out of the church side by side. The community had eloquently expressed their feelings in no uncertain way. Many were tactful, appealing to the church to do the right thing and protect the children's health. Others strongly challenged the case for the tower to be sighted in this neighborhood, pointing to the precarious case for safety of cellular networks.

Precisely at 1:17 on Wednesday, March 23rd an email went out from the church to the community. According to the New Testament, this would be the day that Jesus threw the merchants and money-changers out of the temple. To a euphoric community, the lead Pastor announced that the church would withdraw its intention to place a Verizon tower on its premises. The merchants and money changers had indeed been thrown out of this church!

For possibly the first time since 1996, history had been made. Free and open debate had actually taken place on a topic that the US Congress had made off-limits. In the shadow of the majestic Rockies, in a cozy little neighborhood in the heart of Fort Collins all views were welcome; no speech denied. Nurses, professors, moms, business people, veterans, parishioners and children freely offered their views on the possible health effects from sighting of a cell tower. This moment provided a welcome reminder on just how our democracy was designed to work. The will of these people was heard. For an instant, free speech on this controversial topic was reclaimed!

Still the long shadow of Section 704 of the Telecommunications ACT casts a veil of darkness over an important topic, which obfuscates what is in the hearts and minds of Americans across the land. As a consequence, citizens everywhere will miss the incredible nuggets of truth so intimately and beautifully shared among an amazing community of neighbors and a most honorable church community in Fort Collins one wild and stormy evening in March.

***
Heather Lahdenpera, LAc, who organized the coming together of her Ft. Collins neighborhood to reject the idea of a cell tower in their midst offered these thoughts to ElectromagneticHealth.org:
If we pay attention to what is happening in our country, every day we will see that corporate interests are being put before human and environmental interests in so many areas of our lives. I have always done what I could by signing petitions on line when I see one that speaks to me, but I had never really taken serious action. It is easy to become paralyzed by the feeling of powerlessness. However, when I found out that a cell tower was proposed to be placed on top of a church roof, right next door to my childrens' school and within line of sight of my house, I could not stand idle. I understood the dangers of yet another layer of radio frequency radiation being placed near my children and family. So, I took action. It was the most empowering thing I have ever done. As I began to notify and mobilize the neighborhood, many neighbors began to thank me for taking action. They believed there was nothing that could be done to stop this. Once people knew they had a forum where they could voice their concerns, the community worked together and we made a small dent in this growing problem. I found that I shared values with my neighbors, many of whom I didn't previously know. The church leaders at our neighborhood church, LifePointe, listened to our concerns and decided not to place a cell tower on their roof. I feel moved to stay involved with this extraordinary church with which I had had no prior connection. I encourage everyone to take a stand for things that matter, especially our health."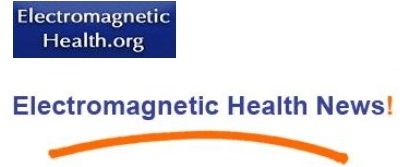 Please support our work by making
a tax-deductible donation.
We are 100% donation-based
and need your support
to educate, communicate and analyze
critical developments in this field.
Thanks so much for your help!
Please give generously.
We depend on you.