Westminster, CO, October 6, 2018.  Health and environmental activist Camilla Rees, MBA, was awarded the Jonathan Forman Award today by the American Academy of Environmental Medicine (AAEM). The award is given to an individual, not necessarily a medical doctor, who in the opinion of the Academy has made an outstanding contribution to the field of Environmental Medicine.

Since the award was established in 1968, honoring one of the great pioneers in Environmental Medicine, Dr. Theron Randolph, the Jonathan Forman Award has been given to Medical Doctors and scientists, with nine exceptions, including Ralph Nader in 1970; U.S. Senator Harry Reid in 1993; then U.S. Congressman, Bernie Sanders in 1994; and U.S. Congressman Berkeley Bedell in 1995.

Morton Teich, MD, Past President of the AAEM, presented Rees with what is the Academy's most prestigious award, saying, "Camilla has distinguished herself as a pioneering educator and health advocate, raising awareness among physicians, policymakers and the public about the biological and health effects from cell phones, wireless technologies and wireless infrastructure. She has been on the forefront of what can be argued is one of the most important public health issues of our time, and is a modern-day Rachel Carson, heralding the great health and DNA risks society is presently taking by not hard-wiring communications."

Rees is Senior Policy Advisor, National Institute for Science, Law and Public Policy in Washington, D.C., and founder of ElectromagneticHealth.org and Manhattan Neighbors for Safer Telecommunications. She authored, "The Wireless Elephant in the Room"; co-authored, "Public Health SOS: The Shadow Side of the Wireless Revolution"; and was an Executive Producer of the award-winning film, "Take Back Your Power". She has developed extensive programming, together with leading scientists and clinicians, on the biological and health effects of electromagnetic fields, disseminated globally into 163 countries, and has overseen landmark policy papers on the "smart grid" and telecommunications policy. She serves on the Advisory Board of the International Institute for Building Biology & Ecology and is an advisor to numerous other health and environmental organizations. In March, Camilla also received the "2018 Public Health Award" from the Global Foundation for Integrative Medicines (GFIM). Camilla graduated with an M.B.A. from Georgetown University's McDonough School of Business and a B.A. from Barnard College.

Contact:
Camilla Rees
[email protected]
917-359-8450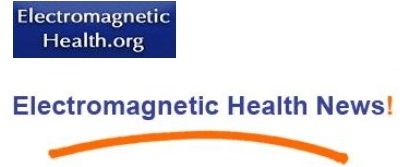 Please support our work by making
a tax-deductible donation.
We are 100% donation-based
and need your support to
educate, communicate and analyze
critical developments in this field.
Thanks so much for your help!
Please give generously.
We depend on you.