Listen to Drs. Amy Dean and William Rea discuss the American Academy of Environmental Medicine's new report on the effects of electromagnetic fields on human health with Camilla Rees of ElectromagneticHealth.org. 

Click to listen 34:49
[audio:https://electromagnetichealth.org/wp-content/uploads/2012/07/Amy-Dean-and-William-Rea-July-2-2012-final.mp3|titles=Amy-Dean-and-William-Rea-July-2-2012-final]
Read AAEM's report "Electromagnetic and Radiofrequency Fields Effect on Human Health" here.
William J. Rea, M.D. is a thoracic, cardiovascular and general surgeon with an added interest in the environmental aspects of health and disease. Founder of the Environmental Health Center – Dallas (EHC-D) in 1974, Dr. Rea is currently director of this highly specialized Dallas-based medical facility. Dr. Rea was awarded the Jonathan Forman Gold Medal Award in 1987 for outstanding research in environmental medicine, The Herbert J. Rinkle Award in 1993 for outstanding teaching, and the 1998 Service Award, all by the American Academy of Environmental Medicine. He is a past president of the American Academy of Environmental Medicine and the Pan American Allergy Society. He has also served on the Science Advisory Board for the U.S. Environmental Protection Agency. Dr. Rea is a fellow of the American College of Surgeons, the American Academy of Environmental Medicine, and the Royal Society of Medicine.
Dr. Amy L. Dean, D.O. is President-Elect of the American Academy of Environmental Medicine and chair of the AAEM public relations committee. Dr. Dean's work has been published in the Journal of Nutritional and Environmental Medicine. She has presented research at the American Academy of Environmental Medicine (AAEM) Annual Meeting as well as the International Symposium on Man and His Environment. In 2009, she co-authored the AAEM position paper on Genetically Modified Foods. She has been featured as a guest on National Public Radio and other venues discussing human health and the environment.

Please visit the Institute for Bau Biology and Ecology (www.hbelc.org) to register for its Annual Conference in the Washington, DC area October 11-16, 2012, where both Dr. Rea and Camilla Rees, MBA will be speaking along with several other experts in the biological effects of electromagnetic fields, and in smart grid technologies. These include Martin Blank, PhD of Columbia University, Devra Davis, PhD of the Environmental Health Trust, best selling author Anne Louise Gittleman, PhD, Jim Turner, Esq. of Citizens for Health and the National Institute for Science, Law and Public Policy, smart grid technology expert Tim Schoechle, PhD, bau biologist Tom Wilson, BSEE, Duncan Campbell, Esq. of Living Dialogues and Christine Hoch of the Center for Safer Wireless. Experts in many other areas of green building/green living will also attend what has become the nation's leading conference and training institute on green living. Architects, engineers, interior designers, physicians, corporate health professionals and the interested public are welcome. Register here: www.hbelc.org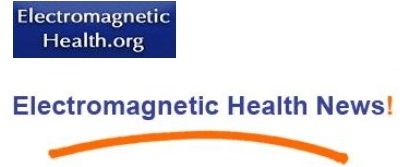 Please support our work by making
a tax-deductible donation.
We are 100% donation-based
and need your support
to educate, communicate and analyze
critical developments in this field.
Thanks so much for your help!
Please give generously.
We depend on you.