Many people become frustrated by phones that use DECT technology, as they require transmission of Radio Frequency Radiation (RFR), regardless of whether the base unit is a corded phone, and remote satellite cordless phones are not used. An RF engineer has written the piece below showing how to sever the power to the RF chip inside the base unit phone so it will no longer emit RFR (and thus also not communicate with satellite phones). Please do this at your own risk, and realize also that you will not be able to restore the RF functionality. You would do this if you did not want to use satellite portable phones, and only wanted to use the corded landline, with no RF exposure. Obviously, no attempt to deactivate the RF chip should be made unless the phone is unplugged and OFF.
DECT Phone Modification to Disable Microwave Radiation
The DECT (Digital Enhanced Cordless Telecommunications) cordless phone standard1 mandates compliant devices to synchronize continuously, whether in use or not. This requires a base station to transmit microwave radiation incessantly and do so at a fixed, maximum power level. Recent amendments to the standard provide for a reduced power level from the cordless handset during a call, depending on distance from the base station. However, the base station will always transmit at maximum power level.
Since the DECT standard does not permit radiation-free operation when the system is not in use, a modification of a newly purchased phone has successfully been implemented to provide an "old-fashioned" corded phone with integrated answering machine but with all radiation eliminated.
A Vtech CS6949 answering system was chosen for the modification. Its base station had a corded handset and satellite cordless handsets were not used. The base station is shown in Figure 1.
The concept was to identify the power lead to the RF section and, if possible, sever this lead or leads to interrupt the power to the entire section. The disassembled base station is shown in Figure 2 with the printed circuit board (PCB) prominently exposed. The RF section was readily identified by a 32-pin chip, two PCB transmitting antennas and one wire receiving antenna (below the PCB, not visible in the photo).
A close-up of the RF section of the PCB is shown in Figure 4 indicating the location of key elements. Only one trace was identified where power enters the transceiver chip. An incision made into this trace severed the power and all microwave radiation ceased. Tests showed that the base station remained fully functional as a corded phone with answering machine.
References
1Digital Enhanced Cordless Telecommunications (DECT) standard, Document ETSI EN 300 175 v2.7.1 Parts 1-8, November 2017. URL: https://www.etsi.org/deliver/etsi_en/300100_300199/30017501/02.07.01_60/en_30017501v020701p.pdf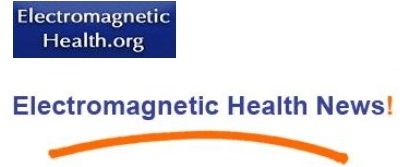 Please support our work by making
a tax-deductible donation.
We are 100% donation-based
and need your support to
educate, communicate and analyze
critical developments in this field.
Thanks so much for your help!
Please give generously.
We depend on you.