Twin Research and Human Genetics / Volume 15 / Issue 01 / February 2012, pp 97-106
Copyright © Cambridge University Press 2012
DOI: http://dx.doi.org/10.1375/twin.15.1.97

The Heritability and Genetic Correlates of Mobile Phone Use: A Twin Study of Consumer Behavior

Geoffrey Miller, Gu Zhu, , Margaret J. Wright, Narelle K. Hansell, Nicholas G. Martin.. The Heritability and Genetic Correlates of Mobile Phone Use: A Twin Study of Consumer Behavior. Twin Research and Human Genetics / Volume 15 / Issue 01 / February 2012, pp 97-106.
Abstract

There has been almost no overlap between behavior genetics and consumer behavior research, despite each field's importance in understanding society. In particular, both have neglected to study genetic influences on consumer adoption and usage of new technologies — even technologies as important as the mobile phone, now used by 5.8 out of 7.0 billion people on earth. To start filling this gap, we analyzed self-reported mobile phone use, intelligence, and personality traits in two samples of Australian teenaged twins (mean ages 14.2 and 15.6 years), totaling 1,036 individuals.

ACE modeling using Mx software showed substantial heritabilities for how often teens make voice calls (.60 and .34 in samples 1 and 2, respectively) and for how often they send text messages (.53 and. 50). Shared family environment – including neighborhood, social class, parental education, and parental income (i.e., the generosity of calling plans that parents can afford for their teens) — had much weaker effects. Multivariate modeling based on cross-twin, cross-trait correlations showed negative genetic correlations between talking/texting frequency and intelligence (around –.17), and positive genetic correlations between talking/texting frequency and extraversion (about .20 to .40).

Our results have implications for assessing the risks of mobile phone use such as radiofrequency field (RF) exposure and driving accidents, for studying adoption and use of other emerging technologies, for understanding the genetic architecture of the cognitive and personality traits that predict consumer behavior, and for challenging the common assumption that consumer behavior is shaped entirely by culture, media, and family environment.

Read Abstract Here

Excerpts

The clear implication of these heritability results is that genes matter more than family environments in predicting how often people use their mobile phones to talk and text. Shared family environment, including neighborhood, local schools, social class, family housing, parental education, and parental income had only a small effect on whether teens used a mobile phone at all, and even less effect on how often teens use their phones to talk and text. This is an important point, because it automatically eliminates many potential confounds. For example, richer parents may buy their teenage children more generous mobile phone plans with more talk minutes and texts per month, but that wealth effect cannot explain the genetic results here, because parental wealth is a shared family environment effect already taken into account by the behavior genetic modeling.

It is not surprising that teens talk and text somewhat more often if they are more extraverted (outgoing, sociable, talkative, active), and the extraversion effect on mobile phone use has been found in another study of Australian adolescents (Inyang et al., 2010). It may be more surprising that there are modest negative correlations, both phenotypic and genetic, between intelligence and mobile phone use. This means that some of the same genetic variants that increase general intelligence also tend to decrease mobile phone usage.

One main limitation of the study is that these results concern predictors of mobile phone use within a population that is very homogenous with respect to nationality (Australian), language (English), ethnicity (almost all of Anglo-Celtic origin), and age (mostly aged 14–18 years) …

A second limitation concerns the limited accuracy of self-reports of mobile phone use …
This study has implications for several domains of consumer research. One domain concerns product liability and the health risks of mobile phone use. Without understanding the heritability, phenotypic correlates, and genetic correlates of mobile phone use, it is very hard to draw firm conclusions from epidemiological studies of alleged mobile phone health risks. Many studies have assessed possible health problems associated with radiofrequency field (RF) exposure generated by mobile phone antennae, including possible brain tumors and genetic damage (Ahlbom et al., 2004; Khurana et al., 2009; Hardell et al., 2008; Valentini et al., 2007; Vijayalaxmi, & Prihoda, 2008) others have focused on the increased risk of car accidents while dual tasking with driving and mobile phone use (Caird, Willness, Steel, & Scialfa, 2008; Horrey & Wickens, 2006; Redelmeier & Tibshirani, 1997; Strayer et al., 2006). However, consider the implications of the small, but significant, negative correlations we found between mobile phone use and intelligence. Higher intelligence is associated with greater longevity and better health in many ways (Arden, Gottfredson, & Miller, 2009; Batty, Deary, & Gottfredson, 2007). Because more intelligent, healthier people apparently use mobile phones less often, epidemiological studies could find apparent correlations between health problems and mobile phone use that are really driven by underlying associations between intelligence and health, and between intelligence and lower mobile phone use. Neglecting the phenotypic and genetic correlations of mobile phone use could lead to overestimating the dangers of RF exposure … however, this possibility does not detract from the many experimental studies in driving simulators that show increased accident risk from phone use (Caird et al., 2008; Horrey & Wickens 2006)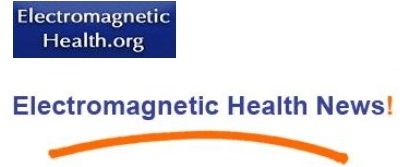 Please support our work by making
a tax-deductible donation.
We are 100% donation-based
and need your support
to educate, communicate and analyze
critical developments in this field.
Thanks so much for your help!
Please give generously.
We depend on you.