N.Y. Open Center, Friday, November 15, 2013 – 7-10 p.m.



A Multi-Disciplinary, Solution-Oriented Look at This




Important New Public Health Issue With Leading




Scientific, Clinical and Remediation Experts
The NY Open Center, the largest urban holistic learning center in the United States, will host an expert panel on risks from cell phones, wireless devices and wireless infrastructure—and what you can do about it—on Friday, November 15, 2013 from 7-10 p.m.  The program will heavily emphasize risks to children, fetuses and fertility, the very foundation of society's future, and practical skills of remediation to reduce or eliminate exposures to electromagnetic fields.
To Register, please call The NY Open Center (212) 219-2527 ext. 2 or www.opencenter.org
Early Bird Price by Nov 1st – $40 Members; $50 Non-Members
After Nov. 1st, $50 Members; $60 Non-Members
Media – please contact the New York Open Center
Scientists report radiation exposures from cell phones, WiFi and other wireless devices impact our cognitive function, immune system, neurological system, behavior, stress response, sleep quality, fertility and reproductive system, DNA, can lead to tumors and cancers, and cause fetal and neonatal effects.
Fetal exposures in the womb can lead to health effects after birth, such as mood and emotional problems, asthma and obesity.
And, childhood exposures are linked to deficits in cognitive function, attention, memory, perception, learning capacity, social skills, reaction time, motor function, as well as to increased distraction, hyperactivity, fatigue and inability to focus on complex and long-term tasks.
Learn how your cells ability to transmit and receive energy, in the form of various natural electromagnetic frequencies, is fundamental to good health, and how man-made radiation with different frequencies, amplitudes, pulses and intensities, interfere with the body's natural frequencies, disrupting physiological functioning.
Learn from top experts about the risks from wireless technologies… and the solutions available today to lessen exposures.
The program will cover topics such as:
Which communications devices emit deleterious radiation and are of concern.
The early warning signs of 'electrosensitivity' syndrome (EHS), and which conditions, including several types of tumors, are associated with overexposure to electromagnetic radiation.
What levels of exposure are considered safe for children—or excessive—and how exposures can be minimized—from the nursery to the classroom.
Why mothers should not use cell phones as pacifiers, or allow a child to sleep with a cell phone or near a baby monitor.
Why bedroom EMF levels matter especially.
Why an old-fashioned hard-wired intercom system used as a baby-monitor or elder-monitor is preferable to wireless monitors.
Mental health risks, and risks to children from use of wireless devices after lights out.
The direct relationship between duration of exposure, and sperm count and sperm quality, and the importance of never placing a cell phone in a pants pocket.
Impacts of this radiation on the heart, and on Heart Rate Variability, and why this is important.
The increased risk of brain tumors when cell phone or portable phone use begins as a teenager or younger, with children having 4x the risk compared to adults.
The rising incidence of brain tumors in many countries from cell phone use, and projections for a possible 'tsunami' of brain tumors within 15 years, based on the trend.
Why exposures matter to you, your children—and even to pets.
How wireless devices pose the issue of 'seduction' followed by addiction, much the same story as with drugs and tobacco, while causing irreparable harm to people and future generations.
… and How To Minimize Exposures, Support Your Health and Build Resilience in a Wireless World:
Creating 'electromagnetically clean' home environments—learn the 6 fundamental steps of RF reduction in the home.
Radiation travels through walls from other apartments and nearby houses. How can one know if this is happening, and what can be done?
What kind of shielding is effective against wireless communication radiation and how the effectiveness varies with radiation frequency (vibration rate).
What are the risks of shielding?
Why are newly built modern apartment buildings of special concern?
When looking for an apartment, what are the preferable locations in a building to minimize RF exposure risk, and how does one assess the neighborhood and the neighbors?
Within what distance from cell towers have cancer clusters repeatedly been found, and what you can do if you find yourself within a high-risk radius?
Recommended best practices for electromagnetic hygiene in schools.
What are other nations doing to minimize EMF exposures, such as relocating towers to non-residential areas and away from schools, banning WiFi, calling for information on the scope of electrosensitivity among children, and more?
Why parents need to understand government 'safety guidelines' for radiation exposure are flawed in not considering all the health effects and all forms of radiation emitted by wireless devices, and are wholly inadequate for children.
How to take the plunge—and buy your own meter! Learn the difference between meters that detect relative exposures, adequate for consumer use, and those accepted by governments and courts.
The difficulties of measuring RF inside a building as compared to out in the open.
How to compare external radiation risks of neighborhood schools.
Therapeutic approaches, if sensitivity has begun, or has become severe. How dental issues, chronic infections, nutritional status, stress, hydration, hormone imbalance, lack of exercise, other environmental challenges, and lack of regular connection to the Earth, can play a role in magnifying disregulation from electromagnetic fields, and EMF hypersensitivity.
How to rebalance the body and encourage a range of positive physiological changes that will build resilience.
Where to obtain summaries of the science showing cell phone effects, and other educational resources, to begin to educate your community and local schools.
Why face-to-face communication is key to healthy emotional and social development (with social media use not being a substitute), and how face-to-face communication is a potent antidote to the negative effects of online time.
Why it is advisable to discourage media multi-tasking, especially in younger children.
Discussion of the underlying spiritual issues in the overuse and addiction to cell phones and wireless devices, and the importance of spending time in nature to heal.
Finding the courage to set limits on communications technology use, and to adjust your lifestyle and home environment to optimize your mental and physical health, and your interpersonal relationships and joy.
How 'energy' or 'electro'-medicine will be the new frontier in medicine—addressing imbalances and disease, including cancers, at the far more fundamental level of energy—and why these approaches are needed now more than ever.
Panelists

Camilla Rees, MBA, Founder, ElectromagneticHealth.org and Campaign for Radiation Free Schools (Facebook). Ms. Rees is a leading U.S. health policy advocate and educator on the subject of electromagnetic fields. She co-authored "Public Health SOS: The Shadow Side of the Wireless Revolution", co-founded the International EMF Alliance and has co-authored or edited many white papers, including the landmark "Cellphones and Brain Tumors: 15 Reasons for Concern" and "Getting Smarter About the Smart Grid," which will be presented at the Commonwealth Club of California on January 28, 2014. Ms. Rees educates physicians, governments, and media on electromagnetic fields and is an EMF Advisor to Mercola.com, FrankLipmanMD.com and Citizens for Health. She serves on the Advisory Board of the International Institute for Building-Biology® & Ecology and on the Board of Directors of Media in the Public Interest. Email: [email protected]



Stephen Sinatra, MD is a board certified cardiologist, nutritionist and anti-aging specialist. He is a Fellow of the American College of Cardiology, the American College of Nutrition and is Certified with the American Board of Internal Medicine and the American Board of Anti-Aging Medicine. His experience includes more than 30 years of clinical practice, research and study, including 8 years as Chief of Cardiology at Manchester Memorial Hospital in CT, and 18 years as director of medical education. Dr. Sinatra has authored 12 books, including "Earthing—The Most Important Health Discovery Ever?" on the recent breakthrough discovery revealing electrons from the surface of the Earth play an essential role in electrical stability within the body, leading to improved physiological functioning in all systems, and countering the effects of certain electromagnetic fields.



Martin Blank, PhD, Special Lecturer and (ret.) Associate Professor, Columbia University, Department of Physiology and Cellular Biophysics. Dr. Blank is a leading expert in the effects of electromagnetic fields on DNA and biology, and Past President of the Bioelectromagnetics Society. He was author of the BioInitiative Report's section on the impact of electromagnetic fields on Stress Proteins; Editor of the journal Pathophysiology's special issue on Electromagnetic Fields (2009); and co-author of "Electromagnetic fields and health: DNA based dossimetry" (2012), which recommends a new way of assessing the biological impact of electromagnetic fields, using DNA. Dr. Blank's forthcoming book, "Overpowered", is scheduled to be published January 2014.



Lawrence Gust, BS, MBA, BBEC is an electrical engineer, certified Building-Biology® Environmental Consultant (BBEC) and Faculty & President of the Board, International Institute for Building-Biology® and Ecology. For over two decades, through Gust Environmental in Ventura, CA, he has specialized in complete assessments of homes for environmental factors, including electromagnetic fields, from the perspective of the growing human sensitivity to environmental toxins. He also consults nationally and internationally on the environmental aspects of the construction and remodeling of homes and offices and is principal in pH Living, a design and construction company specializing in healthy buildings. Mr. Gust lectures at medical conferences and works closely with physicians to uncover root causes of imbalance located in a patient's environment. He is considered one of the foremost experts in EMF remediation in the U.S.
To Register, please call The NY Open Center (212) 219-2527 ext. 2 or www.opencenter.org
Location: New York Open Center, 22 E. 30th St., NY, NY 10016;
Ph: 212.219.2527 or www.opencenter.org
(Please confirm final location with the NY Open Center, as depending on the
number of people registering the event may be moved to a larger venue.)
Media inquiries: For media access to panelists in advance of this event, please contact Emily Roberson at [email protected]
We encourage young Americans, parents, teachers & schools to share this post with interested persons, and encourage all to Register early! Thank you for sharing in particular with those responsible for the lives of children.
******
Physician Quotes
Electromagnetic fields from cell phones and wireless technologies create disharmony in the body and mind, and should be minimized by people seeking wellness. The radiation is a stressor. The erratic nature of the various frequencies is biologically disruptive, interfering with the natural processes that maintain balance and efficient cellular communication. Diseases and health challenges of many kinds have been linked to the radiation. The constant stimuli of non-stop online communication is also leading to technology addictions, underdeveloped interpersonal skills, shallow and disjointed experiences of life, and even brain damage, such as the stunning new condition, "digital dementia', in children. I recommend health conscious New Yorkers attend the Open Center's program November 15, 2013 to learn how to minimize these exposures."
Frank Lipman, MD
Eleven Eleven Wellness Center
New York, NY
Unlike chemical exposures or mold, with electromagnetic fields there is nothing to see or smell to warn a person there may be harm. Learning to measure electromagnetic fields and to remediate are essential for patients. I am encouraging my patients to attend The Open Center event November 15, 2013 so they can learn ways to create EMF-free home environments and minimize '2nd hand' wireless radiation exposures."
Morton Teich, MD
Pediatric & Adult Allergy, Immunology
and Environmental Medicine
New York, NY
EMF is the epidemic of the future that is coming on rapidly."
William J. Rea, M.D.
Environmental Health Center
Dallas, TX
Electromagnetic pollution is one of the most important health issues
of our day, causing acute and chronic health problems in more and more people. Doctors in the NY metropolitan area should attend the upcoming program at the NY Open Center, and learn from experts about this emerging public health issue."
Amy Dean, DO, FAAEM
President, American Academy of Environmental Medicine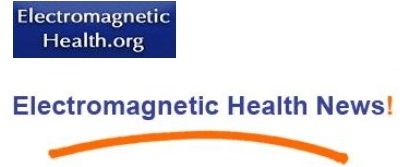 Please support our work by making
a tax-deductible donation.
We are 100% donation-based
and need your support
to educate, communicate and analyze
critical developments in this field.
Thanks so much for your help!
Please give generously.
We depend on you.