The Radiation Research Trust has just released an important new paper on Smart Meters prepared for them by Dr. Isaac Jamieson, Smart Meters-Smarter Practices. The review is comprised of excerpts from scientific papers, reports and articles and is intended for a general audience.


Click here to download Part 1  (17mb)

Click here to download Part 2 (13mb)

Smart Meters–Smarter Practices recommends 'open innovation' approaches to the smart grid based on collaboration and co-creation that "respect security issues, human rights, public health, the environment and the need for beneficial best practice and timely innovation".

It concludes:

"Those who fail to address such issues may leave themselves at increased risk of economic destabilization, public distrust and ever increasing lawsuits. Cost effective 'Win/Win' solutions that benefit the individual, national economies and the environment should be sought wherever practical."
Dr Isaac Jamieson is a scientist, architect and built environment consultant  specializing in the design and enhancement of bio-sustainable environments and technologies. He was Honorary Secretary and Treasurer of the Electrostatics Group of the Institute of Physics from 2008 to 2011, and is presently a scientific adviser on stakeholder groups in the EU and UK involved in policy decisions for the creation of healthy environments at national and international level. In addition to this he has in the past undertaken work for the Lifelong Health Project at Imperial College London, related to the development of environmental design factors and preventive interventions aimed to encourage healthy aging and enhance well-being. He undertakes freelance consultancy work, private commissions and international research collaborations. He organized the International one-day conference 'Electromagnetic  Phenomena and Health – a Continuing Controversy?' at the Institute of Physics in London in 2008.

Recent research papers by Dr. Jamieson include:

Jamieson (2011), Underground Living and Health. Presentation given at  'Designing for Intelligent Underground Buildings' seminar held by the CIBSE  Intelligent Buildings Group, CIBSE HQ, London on 6 July 2011.

Jamieson (2010) Visible Light Communication (VLC) Systems,  bemri.org/visible-light-communication.html

Jamieson, Holdstock, ApSimon & Bell (2010), Building Health: The Need for  Electromagnetic Hygiene?, IOP Conference Series: Earth and Environmental  Sciences – http://iopscience.iop.org/1755-1315/10/1/012007 ;

Jamieson (2010), Intelligent Communication: The Future of EMF Discourse and Risk Governance?, IOP Conference Series: Earth and Environmental Sciences – http://iopscience.iop.org/1755-1315/10/1/012009 ;

Jamieson & Briggs (2009), Towards Effective Risk Discourse: the Role of Stakeholder Partnerships. International Journal of Risk Assessment and Management, 13, (3-4), pp. 276-293.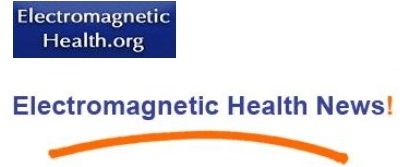 Please support our work by making
a tax-deductible donation.
We are 100% donation-based
and need your support
to educate, communicate and analyze
critical developments in this field.
Thanks so much for your help!
Please give generously.
We depend on you.