Camilla Rees, MBA, founder of ElectromagneticHealth.org and Campaign for Radiation Free Schools (Facebook) and L. Lloyd Morgan, B.S., Senior Research Fellow at Environmental Health Trust, will be speaking in Lafayette, CA, Thursday, January 16 at 6:30 p.m. at the request of the parents of St. Perpetua students concerned about a new cell tower proposed to be installed on the grounds of the school. A local physician will also be speaking we understand.

We hope you can attend the meeting in Lafayette on Thursday the 16th to help us support the parents!

ALSO, AND IMPORTANTLY, when our meeting was announced, AT&T announced a similar meeting for parents on Tuesday the 14th–two days before ours) Same location, same time, same topic!! Lloyd will be attending this and PLEASE ALSO JOIN HIM THERE, if you can, to support the parents in not going into cognitive dissonance on this important matter!

Please share this notice among scientists, doctors and activists in the Bay Area. The parents welcome your attending both meetings, held on both the 14th (AT&T) and the 16th (our presentations to parents).

Tuesday January 14th AND Thursday, January 16, at 6:30pm!!!
Veteran's Memorial Building @ 3780 Mt. Diablo Blvd., Lafayette
Please attend both if you can!

For more information, please see the below flyer by The Concerned Parents of St. Perpetua Community, or email [email protected].
ANOTHER CELL TOWER PROPOSED IN OUR COMMUNITY….
THIS ONE ON SCHOOL CAMPUS
Please join us for an informative presentation and Q&A, as we learn from field experts, scientists and Bay Area physicians, about cell towers, their potential health risks and their effects on our community!
Thursday, January 16, at 6:30pm
Veteran's Memorial Building @  3780 Mt. Diablo Blvd., Lafayette
We, the parents of St. Perpetua students, have been made aware that a cellular phone carrier has proposed to install a cell tower on the grounds of the school and church. Below are some informational points we discovered while investigating possible health and safety risks to our children, teachers, staff and parishioners:
Cell Towers emit high radio frequencies (RF), a form of electromagnetic radiation (EMR), for a distance of up to 2 1/2 miles. The World Health Organization currently classifies EMRs as a class 2b carcinogen. The Environmental Protection Agency (EPA) currently lists RF/EMF to be a "potential carcinogen."*
The Walnut Creek School District does not allow cell towers to be placed on their school campuses due to the overwhelming parental & public concern.*
The California Public Utility Commission (CPUC) has urged the cell phone industry not to locate towers near schools or hospitals.*
The American Academy of Pediatrics in 2013, submitted a letter to the U.S. Federal Communications Commission (FCC) that urged the adoption of standards that protect children's health and well-being from radiation emitted by cell phones and other wireless devices.*
Lafayette City Council members have communicated their concerns to the FCC regarding their guidelines, requesting that safety exposure limits to RF's/EMF's be re-evaluated, asking for local control as they are currently prohibited from considering health & environmental factors when placing towers.*
The European Environment Agency (EEA) issued a report calling on governments to reduce exposure to cell phone radiation, especially exposure to children and young adults.
Telecommunications Act of 1996: Forbids local governments from considering health & environmental factors when placing cell towers.*
Further research needs to be done before we can accept the safety of cell towers on our children's campus!

Current FCC 'guidelines' are irrelevant as they are based on EPA recommendations dating back to 1996, and only measure "thermal effects" of EMRs (tissue warming), based solely on animal studies. Therefore, the FCC "guidelines" cannot be used for any claims of EMR safety unless we are addressing heat damage.  The FCC sets the standards of exposure for the public, claiming that based on scientific studies, the current levels are safe. The FCC is not a public health agency, and they have yet to set any standards based on non-thermal risks (tumors, cancer, DNA disruption, hormonal, neurological, auto-immune disease). The FCC has been criticized as being "an arm of the industry". Many who work for the FCC are either past or present employees of this quickly growing $40 billion dollar a year industry they are supposed to regulate.*

*Sources/Additional References/Websites: Dr. De-Kun Li, MD. PhD-epidemiology, MPH, editor American Journal Epidemiology, teaches at Stanford Univ., supervises doctoral students of epidemiology at U.C. Berkeley & UCLA, Joel M. Moskowitz, PhD. School of Public Health UC Berkeley, (www.saferemr.com), Martha Herbert, PhD, MD of Harvard Medical School-Neurology, www.EMRPolicy.org, www.electromagnetichealth.org, http://www.healthandenvironment.org, http://www.antennasearch.com, www.wifiinschools.org.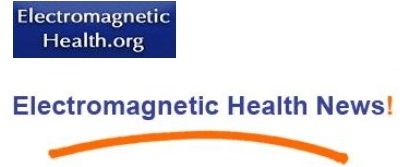 Please support our work by making
a tax-deductible donation.
We are 100% donation-based
and need your support
to educate, communicate and analyze
critical developments in this field.
Thanks so much for your help!
Please give generously.
We depend on you.