A survey of more than 2,200 pupils conducted by the UK charity Tablets for Schools has acknowledged children become addicted to internet devices. The charity is funded by major technology firms including Google, Sony, Samsung, Carphone Warehouse and Virgin Media.  According to a Telegraph (U.K.) article, the research found that:

–Almost 40% of young people using tablets sometimes felt addicted to the internet
–Feelings of addiction increased with age, with 49% at age 10 sometimes feeling addicted
–64% took an internet device to bed, and in this group feelings of addiction rose to 50%.
–By age 11, 76.92% of young people took an internet device to bed.
–More girls than boys sometimes feel addicted
–They reported concern among young people that they are too reliant on wireless devices, feel lost with out it, etc., and reported there are signs they are tiring of their compulsive use of the internet
–While some young people describe 'sometimes addicted' as meaning using the internet each day for 2-3 hours, others reported a greater challenge, with 6% reporting they 'could not live' or 'could not function' without the internet, and 6% claiming they get annoyed or upset if they cannot use it.

Note that while this was a large survey of 2,228 young people, only 2,228 responded out of 3,500 asked—making one wonder if the young people who did not respond were the ones more addicted to internet devices.

The research recommended a five-point guide to prevent children from becoming addicted to smartphones:
Power down devices 30 minutes before bed. "Don't use your device as a clock – invest in a real alarm clock";
Set time limits to avoid watching hours of online content when time can be spent on other things;
Find new "boredom busters" – interests and passions to enjoy when off-line;
Ensure devices are completely unplugged or powered down at certain times in the week or day;
Always switch off devices when studying to avoid distraction.

Read more in this May 9th, 2014 Telegraph article.

Andrew Harrison, Chairman of Tablets for Schools and chief executive of Carphone Warehouse, was quoted as saying schools "must get their preparation right" before allowing pupils to use tablet computers in the classroom. He said that "the key to getting the best out of this incredible technology is for pupils, parents and teachers to be properly prepared…[and] empowered on the correct and balanced path to take."

In the report's conclusion, it said, "Importantly it seems that a dialogue needs to take place between young people and the adults in their lives, be it in school or at home, about using the internet safely, wisely and in a way which enhances their wellbeing."


Last June, the first U.S. conference on the impact of cell phones and wireless devices on children was held in Stonington, CT organized by ElectromagneticHealth.org.

Experts included Columbia University's Martin Blank, PhD, author of the new book, "Overpowered", David Carpenter, MD, co-editor of the BioInitiative Report, Camilla Rees of ElectromagneticHealth.org and Campaign for Radiation Free Schools, Devra Davis, PhD of the Environmental Health Trust and Hugh Taylor, MD, Chairman of the Obstetrics, Gynecology and Reproductive Sciences Department at Yale University.

LISTEN: "Cell Phones and WiFi: Are Children, Fetuses and Fertility at Risk?"  (AUDIO)

The program addressed:

The Emerging Public Health Issue From Cell Phones and Wireless Technologies. The trillion dollar wireless communications industry has grown to dominate our lives over the past decades yet little concern has been paid by U.S. public health officials to the long-term risks from continually bathing ourselves, and our children, in electromagnetic fields.

Warnings From Around the World. Independent scientists, as well as physicians and psychologists the world over, say the human health stakes from EMF (electromagnetic field) exposures are comparable to those from tobacco and asbestos, and even greater as in this case the entire population is exposed. DNA effects, including fertility effects, experts say will likely be irreversible.

Special Vulnerability of Children, Fetuses and Sperm. Children's bodies and brains are more vulnerable and they face a longer lifetime of exposure. Exposure to electromagnetic fields in utero is correlated with health challenges such as ADHD, emotional problems, asthma, obesity and possibly Autism Spectrum Disorder, yet expectant mothers and parents are not being told about the risks.

A 12-page summary of the findings from this Children's Health Expert Panel can be found here.

Media interested in further background information about the biological impact on children from wireless technologies can call Camilla Rees, MBA at (917) 359-8450.

To receive a copy of the Tablets for Schools study, contact the U.K. Charity here.

Visit Campaign for Radiation Free Schools (Facebook)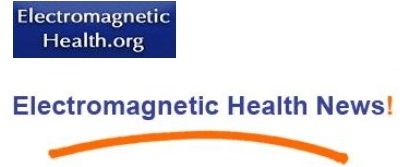 Please support our work by making
a tax-deductible donation.
We are 100% donation-based
and need your support
to educate, communicate and analyze
critical developments in this field.
Thanks so much for your help!
Please give generously.
We depend on you.