Dear Connecticut Friends & Colleagues,

Consider coming to the screening of the documentary, "Take Back Your Power" on Jan 21st at 6:45 p.m. and please share the flyer with others who might be interested in learning about the flawed smart meter strategy in the U.S. The new utility meters called 'smart meters' have important privacy, safety, security, economic and health considerations. Learn why you should not allow a smart meter on your house under any circumstances.

Download Flyer



"Take Back Your Power" won the Indie Fest Annual Annual Humanitarian Award. I am proud to have been an Executive Producer, and to have also directed the landmark paper, "Getting Smarter About the Smart Grid" on this topic.

I hope you will attend this screening at the Fairfield Cinemas Jan 21st at 6:45 p.m. (buy your tickets early at www.tugg.com/events/12488). There will be a top team of experts present for Q&A and commentary before and after the film, including myself, science writer B. Blake Levitt, and Starling Childs, President of the Berkshire-Litchfield Environmental Council. There is, indeed, a 'power struggle' going on in the energy sector in the U.S. today, and it is not just about electricity. There is a paradigm change underway toward distributed (local) power generation and an emergent renewable energy-based 'rooftop revolution', that is being stifled, with the willing support of some of the largest environmental organizations. And, there is also a power struggle going on about privacy, with Americans wanting to preserve their right to quiet enjoyment of the private space they call 'home'. Come and learn more about this complex and intriguing subject!

Fairfield, CT – Wednesday, January 21, 2015
Fairfield Cinemas at Bullard Square
40 Black Rock Turnpike, Fairfield, CT 06824
(203) 339-7147
6:45 p.m. Pre-movie discussion
7:00 p.m. Screening and discussion
9:00 p.m. Q&A ends

Order Tickets at www.tugg.com/events/12488

Pre/Post-movie discussion with a great team:


B. Blake Levitt is an award-winning journalist who has specialized in medical and science writing for two decades. She has researched the biological effects of non-ionizing radiation since the late 1970's. A former New York Times writer, she has written widely on medical issues for both the lay and professional audience. Her work has appeared in numerous national publications.

She is the editor/contributing author of Cell Towers, Wireless Convenience? or Environmental Hazard? Proceedings of the "Cell Towers Forum" State of the Science/State of the Law. She is also the author of Electromagnetic Fields, A Consumer's Guide To The Issues And How To Protect Ourselves, for which she won an Award of Excellence from the American Medical Writers Association. Ms. Levitt also has a chapter in Electromagnetic Environments and Health in Buildings, entitled Moving Beyond EMF Public Policy Paralysis. She lectures widely on the subject of environmental energy and consults for municipalities considering telecommunications regulations.


Starling W. Childs, M.S. is President of the Berkshire-Litchfield Environmental Council and the scion of Great Mountain Forest in Norfolk, CT, Connecticut's largest tract of privately held land, with 6,800 acres.

Star is a lecturer at the Yale School of Forestry & Environmental Studies. He introduces Yale's incoming forestry graduate students to a crash course in field studies each year at Great Mountain's camp. Great Mountain offers varied programs for students, teachers, environmentalists, researchers and owners of large tracks of land with an eye toward preservation and sustainability.

Star is also the President of EECOS, Inc., environmental consultants, a land-use planning and scientific assessment group specializing in innovative management of farm and forest lands, as well as creative development designs.

Star holds an undergraduate degree in geology from Yale University, and a Master's degree from the Yale School of Forestry and Environmental Studies. He has worked in private forests in Scotland, studied atmospherics in Alaska, and worked with the New Zealand Forest Service's Division of Protection Forestry, among many other things. Among his areas of expertise are renewable energy technologies and the effects of low level radiation on flora and fauna.


Camilla Rees, MBA is a leading health educator, author and activist and Senior Policy Advisor to the National Institute for Science, Law & Public Policy (NISLAPP) in Washington, D.C. She founded ElectromagneticHealth.org, Campaign for Radiation Free Schools and the International EMF Alliance (Oslo). Under her direction, NISLAPP published the landmark paper, "Getting Smarter About the Smart Grid", which revealed smart meters have none of the energy efficiency benefits claimed, will not move the U.S. toward a renewable energy economy, and were a waste of billions of taxpayer dollars. Recently, NISLAPP published, "Green Electricity or Green Money? Why some environmental groups hamper clean energy" also under her direction. Camilla has organized three programs on the biological and health effects of electromagnetic fields, including smart meters, at the Commonwealth Club of California, the nations oldest and largest public affairs forum. She is co-author of "Public Health SOS: The Shadow Side of the Wireless Revolution". Camilla serves as Advisory Board Member of the International Institute for Building Biology & Ecology, Voting Member, the U.S. Health Freedom Congress, Board Member, Media in the Public Interest, and EMF Advisor to Citizens for Health and Mercola.com. Camilla holds a BA from Barnard College and an MBA from Georgetown University Graduate School of Business Administration.
Please buy your tickets online asap–VIP to advance purchase–$11 in advance. www.tugg.com/events/12488
Some topics for discussion…

–Why were billions in federal taxpayer dollars spent on smart meters with no energy efficiency benefits?

–Learn why former CT Attorney General, now U.S. Senator, Richard Blumenthal, and the current CT Attorney General, George Jepson, both advocated against smart meters in CT on economic grounds until more is known, when the rest of the country wrongly believed there were clean energy and cost saving benefits.

–What is needed now to keep radiating smart meters out of Connecticut?

–Is calling for an 'Opt Out' provision enough–or, for safety and health reasons, should the meters be banned outright?

I hope to see many of you there on January 21st!! Thanks for your interest. Order your tickets now at www.tugg.com/events/12488

All the best,


Camilla Rees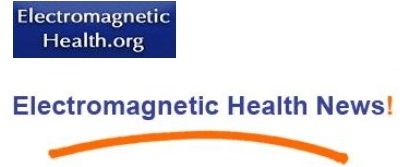 Please support our work by making
a tax-deductible donation.
We are 100% donation-based
and need your support
to educate, communicate and analyze
critical developments in this field.
Thanks so much for your help!
Please give generously.
We depend on you.