The Vienna Medical Association has called for cell phone free zones in public spaces.

The head of Environmental Medicine at the Vienna Medical Association, Piero Lercher, says this is needed both to lower radiation exposures as well as to instill a consciousness about safe use of cell phone technology.

He calls for

Cell phone-free zones
Recycling to address environmental impacts of cell phone production
Attention to "10 medical mobile phone rules" defined six years ago (see below)

Lercher says the fact that right action has to be awakened by court decisions, as in the case of the recent Italian Court decision deciding there was an 80% disability caused by a cell phone, is extremely serious.

He says he sees withdrawal symptoms in people without cell phones.

Lercher says cell phone manufacturing involves mining for rare earth metals, which can create a poisonous environment—a 'poisonous mud', and calls for recycling with proceeds from recycling donated to charities.

Highlighting the 4.6 billion users of cell phones, Lercher says, "The dimensions of this mass phenomenon shows how important it is to develop rules for a moderate and safe use of this technology,"

Beyond emphasis on safer use of cell phones, Lercher calls on industry to emphasize low radiation cordless phones, which used to be available on the market.

The Vienna Medical Association's "10 medical mobile phone rules" established six years ago (translated informally)":

Use cell phones as little as possible.
Always use a land line phone when possible.
Children and teenagers less than 16 yrs of age should use cell phones only in emergencies.
Hold the cell phone arms length away when answering it.
Do not use cell phone in a moving vehicle (ex bus, train)
When sending a text, hold the cell phone as far away as possible from the body.
Before buying a cell phone, look for the lowest SAR phone.
Look for external headsets.
Do not place cell phone in pants pocket, as exposure can possibly cause infertility in men.
At home, always use a land line and turn cell phone off.
Do not play games on cell phones.
If using a headset or hands-free keep the phone as far away from the body, such as in a purse or outer pocket of a coat.
Use the cell phone as little as possible.
Wireless always leads to higher exposure/body burden so best not to use.

Cell phones should not be permitted in public waiting areas.

Read more at the EMFactsConsultancy website

Download Flier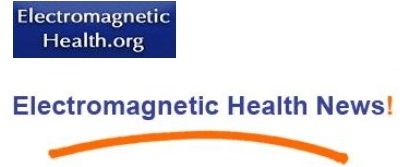 Please support our work by making
a tax-deductible donation.
We are 100% donation-based
and need your support
to educate, communicate and analyze
critical developments in this field.
Thanks so much for your help!
Please give generously.
We depend on you.